Swansea University in the United Kingdom offers Ph.D. students in a variety of disciplines fully funded research scholarships. Any candidate from any country may apply for these grants. The entire cost of tuition, as well as any necessary research costs, is covered by these scholarships.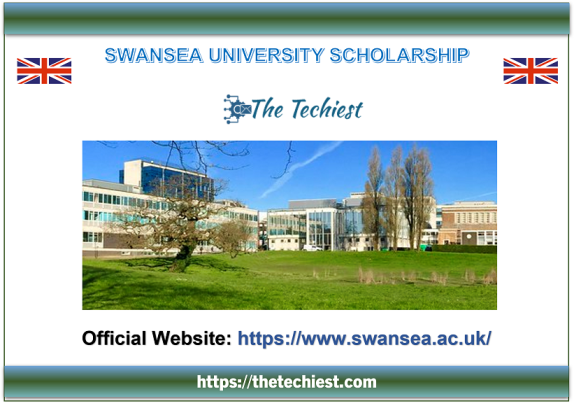 Fully Funded Research Scholarships (UK)
Fully Funded Research Scholarships (UK) Swansea University
Fully Funded Research Scholarships (UK) for Ph.D. Students at University Swansea, Wales, the United Kingdom, there is a Welsh public research institution called Swansea Institution. The university community thrives on discovery and exploration and offers the perfect balance of outstanding instruction and research, as well as an enviable standard of living. Fully Funded Research Scholarships (UK) waterfront campuses attract international students and staff, and its multicultural community offers a global viewpoint, enabling those who join it to develop skills and knowledge that will position them for prosperous and fulfilling careers.
'
Join Scholarships in Australia Facebook group for more Scholarships and Fellowship updates
Fully Funded Research Scholarships (UK) for Ph.D. Students at Swansea University
Both local and foreign students have access to a variety of scholarships that give them the chance to show off their abilities. The completely Fully Funded Research Scholarships (UK) are briefly described below. These grants are offered in a variety of academic disciplines. These doctoral grants are typically available for 4 years.
Fully Funded UKRI CDT AIMLAC Ph.D. Scholarships
The Artificial Intelligence, Machine Learning, and Advance Computing (AIMLAC) program seeks to educate the following generation of AI pioneers in various STEM fields. Advanced multidisciplinary training is provided by the Centre for Doctoral Training (CDT) in a welcoming, friendly atmosphere that supports each student's efforts to realize their full potential. Applications from people with diverse backgrounds and any nationality who can make a good difference in society's future are encouraged.
Join "Fully Funded Scholarships in Euorope" Facebook group to explore latest scholarship opportunities
Benefits
These are competitive scholarships and cover all tuition fees as well as an annual stipend of £17,668. Additional funds will be made available for research.
Visualization of Temporal Networks Through Interactions with The Space-Time Cube (Rs179)
The learner will investigate how to divide and visualize the space-time cube perceptually. The project will first use an embedded network created by an event-based dynamic graph drawing algorithm to visualize the elements of this space-time cube. In this instance, the visualization techniques will focus on visualizing the structure within the drawing, which simultaneously considers the spatial position and time. Then, in a user-controlled space-time cube, we'll examine techniques for drawing dynamic diagrams on demand.
Engineering and Physical Sciences Research Council (EPSRC) is the funding source, and Swansea University is the DTP host institution.
fields of study: computer science
An appropriate course of study is a Ph.D. in computer science.
Candidates typically need a master's degree with a minimum overall grade of "Merit," or a 2.1 undergraduate degree in computer science, mathematics, or a closely similar field. (or Non-UK equivalent as defined by Swansea University).
For more scholarships
The University of Waterloo Scholarships | Top Canadian Scholarships