The Hungarian Government Scholarship program, administered by the Hungarian Government, was created to support the internationalization of Hungarian higher education and to draw exceptional international students from across the globe who wish to form professional and personal ties with Hungary while also receiving an excellent education in the center of Europe.
join the Facebook group to find out more "Scholarship opportunities" and "International Positions"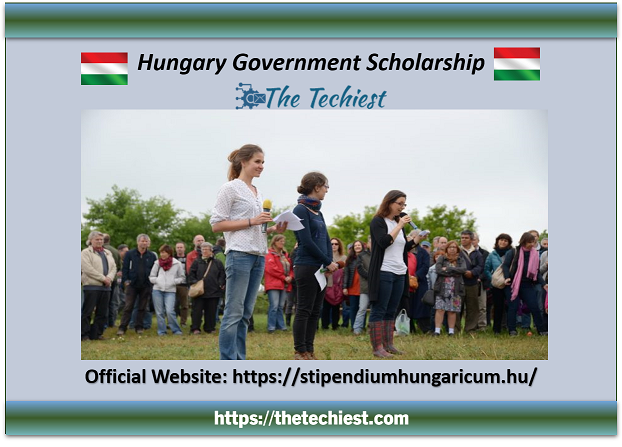 With over 5000 international students applying each year, the Hungarian Government Scholarship is based on bilateral education agreements between Hungary and the governments of the sending countries. It is currently offered in approximately 90 countries and territories on five continents.
Hungarian Government Scholarship Summary
| | |
| --- | --- |
| Host Country | Hungary |
| Host Institute | A Hungarian University |
| Study Level | Non-degree, Undergraduates, Postgraduates, Doctoral |
| Eligible Fields | All |
| Application Opening Date | November each year |
| Application Closing Date | January next year |
| Coverage | Monthly stipend + Accommodation contribution + Medical insurance |
Hungarian Government Scholarship
Programs Eligible Hungarian Government Scholarship
International students with outstanding academic records can choose from various courses offered by Stipendium Hungaricum, the Hungarian Government Scholarship most prestigious higher education scholarship program. The scholarship intends to enhance international links between the academic and research communities, encourage the internationalization and ongoing growth of Hungarian higher education, and advance the prestige and competitiveness of Hungarian higher education globally.
Applicants can choose from over 600 full-time degree programs in all higher education fields and at all degree levels, including part-time and doctoral programs.
Benefits
Not having to pay a tuition fee is what tuition-free education means.
Monthly stipend: HUF 43,700 a month for 12 months, till completion of studies; applicable to non-degree, bachelor's, master's, and one-tier master's levels; a monthly contribution to living expenses in Hungary.
Doctorate-level monthly stipend: According to current Hungarian legislation, the scholarship amount is HUF 140,000 for the first four semesters of education and HUF 180,000 for the second four semesters of education. The scholarship is awarded for a period of 12 months per year, until the completion of studies.
Housing contribution: either a free dorm spot or a monthly payment of HUF 40,000 towards housing expenses for the length of the scholarship (note that this amount applies to rental fees only if the student does not live in the dorm).
This contribution won't cover all of the rental expenses in larger cities, especially the capital.)
Health care services under Hungarian law (Act LXXX of 1997, national health insurance card) and supplemental medical insurance up to HUF 65 000 (about 153 EUR) per person per year are provided by medical insurance. Students must provide additional monies to pay all living expenditures in Hungary as it does not cover all living expenses. It is highly recommended that all applicants investigate the projected cost of living in Hungary and the city of their choice before to applying.
Documents Required
All candidates must upload the following papers to the online application surface by January 16th, except the medical certificate, which must be supplied by the nominated applicants only until April 15th.
'
An online application
Inspirational Note
Evidence of linguistic skills and translations Evidence of linguistic skills and translations
A copy of an identity card, school certificates and their translations into the language of the chosen study program or Hungarian, transcripts of records and their translations into the language of the chosen study program or into Hungarian
Acceptance of the Online System's Statement for Application
Certificate of Medical
All documents that are not available in Hungarian Government Scholarship or the language of the study program must be translated, and the translated copies must be sent in with the originals.
Hungarian Government Scholarship offers cheap living expenses, a hospitable and secure community with easy access to public transport, a thriving cultural scene, and multiple UNESCO World Heritage Sites to students studying there.
Additional Documents for Art and Music Applicants
Candidates who want to major in music or the arts additionally need to upload the following files. Those wishing to apply for the arts and music must submit the following files online by January 16 at 2:00 PM.
pictures of three drawings or artworks with the creation date indicated
by the three pieces' audio track (with the development date indicated)
Deadline
The online application system of the Hungarian Government Scholarship usually opens in November and closes in January or February of each year. Scholarship recipients must have their visas, be in Hungary, and register at the host institution by 30 September (Next year).
How to Apply
All applications for the Hungarian Government Scholarship must be submitted electronically via the Tempus Public Foundation application portal. Before they may access and complete the application form, upload the necessary files, and submit their application online, applicants must first register and create an account on the application system.
Furthermore, the relevant authority of the Sending Partner must receive all applications. Every Sending Partner may have different requirements and dates for submitting the application documents. It is highly recommended that candidates inquire about the precise stages as soon as possible by getting in contact with the relevant person at their sending partner.
More scholarships
Free online courses from Abdullah University
Malmo University Scholarships for International Students in Sweden
List of Fully Funded scholarships in Canada
Mohamed Bin Zayed University Scholarships in UAE
Join "Fully Funded Scholarships" Facebook group for updates about Fully Funded Scholarships all over the World