You can further your academic career by pursuing a postgraduate degree in Germany under the DAAD Scholarships for Master Studies in Germany. Finance for the scholarships is provided by the German Federal Foreign Office. The programme covers the cost of a thorough postgraduate or Master's degree programme completed at a public or state-approved university in Germany.
join the Facebook group to find out more "Scholarship opportunities" and "International Positions"
DAAD Scholarships for Master Studies summary
| | |
| --- | --- |
| Host Country | Germany |
| Host Institute | A university in Germany |
| Level | Postgraduate |
| Eligible Nationality | All |
| Duration | 10-24 months |
| Closing Date | 01.12.2023 |
DAAD Scholarships for Master Studies summary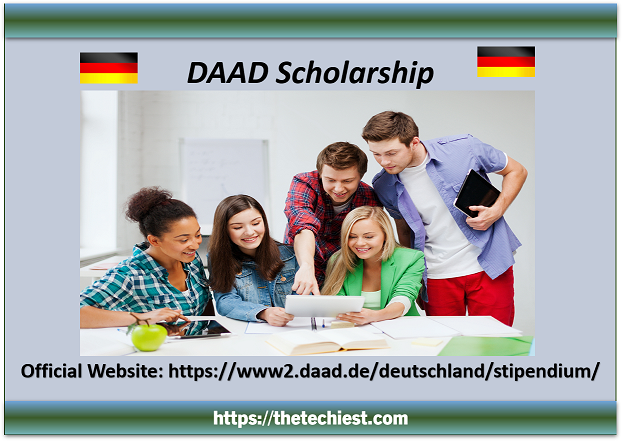 Benefits of DAAD Scholarships for Master Studies
A 934 euro monthly scholarship award
rates for health, accident, and liability insurance
Travel stipend
One-time funding for study (If you come from a DAC country, the grant will be € 260; if not, it will be a flat € 460.)
Eligible Degrees
The DAAD Scholarships for Master Studies programme provides funding for:
A full postgraduate or master's degree programme finished at a German public or state-recognized university, or a year spent studying overseas as a requirement for a second or master's degree obtained at your home institution. The prerequisite is often that the academic credits you obtain in Germany be accepted by your home university. Moreover, the duration of your study year in Germany shouldn't be longer than the normal duration of your studies at your home university.
Funding is not available for German Master's programmes that have already started by the application deadline.
Join "Fully Funded Scholarships" Facebook group for updates about Fully Funded Scholarships all over the World
Eligibility Criteria
In order to qualify for theDAAD Scholarships for Master Studies, you have to meet the following requirements:
You may apply if, by the time the financing term begins, you have obtained your first degree—a bachelor's or diploma, for instance—at the very latest.
Generally speaking, your university degree shouldn't have been obtained more than six years before the application date.
You should not have resided in Germany for longer than 15 months by the application deadline.
In Germany, instruction in all academic programmes is conducted in German. International programmes use English, or English with German, as the medium of instruction.
In the event that training is conducted in English, any of the following certifications may be displayed: TOEFL iBT, ISE, IELTS, and TOEFL
ests available include Essentials, TOEIC, PTE Academic, and onSET English.
It is your responsibility to make sure your application for admission to the study programme of your choice at the German university is submitted by the deadline.
You might be qualified to apply for the following additional benefits after financing begins:
rent with monthly subsidies
A monthly honorarium for family members travelling with you.
Support for additional expenses resulting from a disability or chronic illness that are not paid for by other financial sources.
York University Scholarships | Fully Funded | Canada
'
Deadline
The deadline to apply for DAAD Scholarships for Master Studies is 01.12.2023. The selection date in April/May 2024. Start of the funding from October 2024.
Fully Funded SBW Berlin Scholarship in Germany – No Application Fee
Join "Scholarship Opportunities" Facebook Group for More Scholarships, Fellowships, Internships, Positions, and Free Online Courses
Documents Required to Apply
The DAAD Scholarships for Master Studies Application requires the following materials:
an application available online
a comprehensive resume in tabular format, limited to three pages
a maximum of ten pages listing your publications, if applicable
For your suggested project in Germany, your motivation letter (one or two pages) should emphasise your academic and personal objectives.
A proposal that you have independently thought out and produced, along with a summary of relevant literature (no more than ten pages total).
Work schedule for the anticipated research confirmation from your German academic host, which needs to include a description of your study and a statement on the host institute's commitment to giving you a workspace.
official university transcript with the grade or grades obtained translations in either German or English of documents submitted in the native tongue
Application Procedure
.To apply for DAAD Scholarships for Master Studies, access the DAAD portal by clicking the link given below. You can enter your application information on the online application form there.
Create a DAAD portal account.
Request References
In the DAAD Portal, click "Request reference" to produce the reference form as an editable PDF. Ask your referee to fill out the form completely and email it back to you. To the application address, the referee might mail the form themselves.
Making an online DAAD Portal Application
Download and complete the online application form
Prepare the application materials
Unless they are already in English or German, translate documents if necessary.
Documents on paper should be scanned and saved in PDF format (references excluded).
The application form must be sent along with any other required documents in PDF format to the portal.
Sending application documents by post
References must be delivered to the application site (see tab "Application procedure") in a sealed, unopened envelope.
Applicants from non-EU countries: Please remember to include a detailed description of the contents of your postal shipment in the documents you submit to the customs officials, such as "Application documents for scholarship (contains no commercial goods, no merchandise, or insurable value)".
For more details, visit here to apply for DAAD Scholarships for Master Studies.
List of Scholarships in Australia
List of scholarships in New Zealand without IELTS