Cambridge Gates Scholarship! The Bill Gates Foundation offers fully-funded scholarships for postgraduate research at Cambridge University in the United Kingdom. The scholarship covers the entire expense of attending Cambridge University. Take advantage of the opportunity of a lifetime to learn for free in Europe.
Join USA and Canada Scholarships & Fellowships Facebook Group for more updates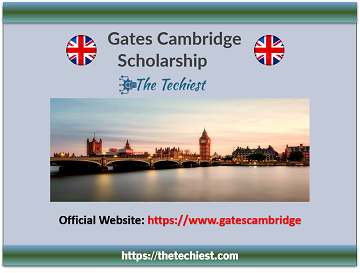 What is Gates Cambridge Scholarship?
In October 2000, the University of Cambridge received a 210 million dollar gift from the Bill and Melinda Gates Foundation, which helped launch the Gates Cambridge Scholarship program.
Around 80 full-fee scholarships from Gates Cambridge are given to deserving non-UK students each year who want to study for a postgraduate degree in any subject provided by the University of Cambridge. In the US round, approximately 25 awards will be given out, and in the global round, 55 awards will be given out, with roughly two-thirds of these funds going to Ph.D. candidates. Click here for more details on the Gates Cambridge Scholarship
Who can apply for Gates Cambridge Scholarship?
A candidate for a Gates Cambridge Scholarship must:
Any person from a country outside of the UK who wants to apply to the University of Cambridge for one of the following programs:
Ph.D. (part-time or full-time)
MLitt (full-time) (full-time)
full-time postgraduate education for one year
Gates Cambridge is piloting a program that allows applicants to submit a funding request for a part-time doctoral degree for entry in October 2023.
More information is available here
Coverage of the Gates Cambridge Scholarship
The entire tuition fee will be paid to selected candidates. a fund for maintenance.
Flight in economy class to and from the program's beginning and end.
Fees for incoming visas and health surcharges.
The scholarship won't cover the costs of the fieldwork because they should be paid by tuition.
The foundation may also provide a family stipend of between £10,120 and £14,140 to families with children.
Assistance with finances for unforeseen circumstances.
Join the Facebook Group for more Scholarship, Fellowship, Internship, and career updates
The application process for the Gates Cambridge Scholarship
Application form
Candidates submit their applications for admission and financial assistance via the graduate application portal of the university. (including Gates Cambridge and other funds).
'
You must finish the Gates Cambridge part of the funding section as well as the sections to apply for entry to a course and a college spot to be eligible for a Gates Cambridge Scholarship. Gates Cambridge has access to the entire admissions and funding application to review submissions.
Admission Section
In this part, you're asking to be accepted into a specific graduate program and a job at a college. You will give the typical information about your background, academic accomplishments, future goals, and suitability for the chosen course.
Financial Section
In this part, you can submit applications for several financial assistance schemes run by the university and associated bodies, including the subsection for the Gates Cambridge Scholarships. To be eligible for a Gates Cambridge Scholarship, you must send in the required documentation.
Gates's statement on the Cambridge research plan (Ph.D. applicants only)
Gates Cambridge citation
You can view the details of each submission requirement form here.
Requirement submission details
Deadlines for Courses offered by Gates Cambridge Scholarship
All the courses have a different deadline you can see the deadline by choosing the course from here Courses deadline directory
You can view the other scholarships which are available for international students:
Join "Fully Funded Scholarships in Euorope" Facebook group to explore latest scholarship opportunities
Other scholarships
OGS Scholarships in Canada for Canadian and International Students
York University Scholarships | Fully Funded | Canada
Fully Funded Research Scholarships (UK) for Ph.D. Students at Swansea University