International students who perform academically are given the Melbourne International Undergraduate Scholarship in acknowledgment of their achievements.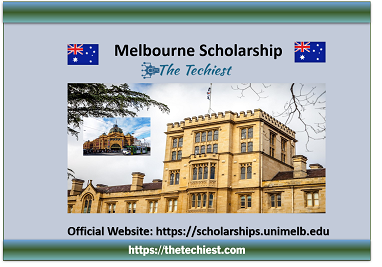 Melbourne International Undergraduate Scholarship Summary
Country
Australia
Host Institution
University of Melbourne
Level of study
Any undergraduate degree offered at the University of Melbourne
Number of Awards
Approximately 1000
Scholarship value
The following tuition fee reductions are available:
$10,000 in the first year of an undergraduate degree,
50% of tuition fees for the three years of an undergraduate degree,
100% of tuition fees for the three years of an undergraduate degree.
Target group
International students
Deadline
31 May
Melbourne International Undergraduate Scholarship
join the Facebook group to find out more "Scholarship opportunities" and "International Positions"
Eligibility
In order to be eligible for a fee waiver scholarship, you must:
not an Australian permanent resident and a citizen of a nation other than Australia or New Zealand;
have received a firm offer to enroll in an undergraduate program;
achieved outstanding final-year academic results, such as:
GCE A-levels: a minimum of three numerical A* grades and an average score of 93% in the top three subjects.
The majority of Australian Foundation Studies: a minimum 98% overall outcome
International Baccalaureate (IB): a minimum 42-point score
US High School: a GPA of at least 3.9 and an ACT or SAT score of at least 31 or 1500, respectively
A grade of at least 97% overall is required for Canada Secondary Schools.
A cumulative score of at least 95% on the India Secondary School Examination (CBSE, ISCE, or State Board Exam).
Vietnam High School: a total score of at least 90; no prior tertiary coursework (with the exception of extended coursework finished as part of a year 12 program).
Join USA and Canada Scholarships & Fellowships Facebook Group for more updates
Application instructions
Application is not necessary. Automatic consideration for this award will be given to you. All qualified candidates who have been unconditionally admitted to a bachelor's degree program will be taken into consideration. For Semester 1, the deadline for applications was October 31, 2022, and for Semester 2, it was May 31,
In order to obtain the application form and receive comprehensive instructions on how to apply for this scholarship, it is crucial to go to the official website.
'
Join Scholarship Opportunities Whatsapp Group to find out more scholarships updates
Official Website:
the official website for scholarships
More scholarships