Continue your education in Australia. happy news The Sir James McNeill Postgraduate Research Scholarship at Monash University is presently accepting applications. We will go into great detail regarding this scholarship in this article, along with its advantages and step-by-step instructions for applying.
Join "Scholarship Opportunities" Facebook Group for More Scholarships, Fellowships, Internships, Positions, and Free Online Courses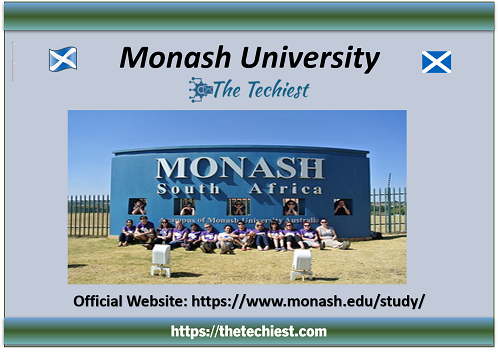 Scholarship at Monash University
For international students, the Sir James McNeill Postgraduate Research Award is a fully funded award. This grant is available for research-related master's and doctorate degrees. Scholarship at Monash University includes a $36,800 yearly living allowance, a $550 relocation fee, and a $1,500 annual research allowance.
This esteemed scholarship can be used for research that is both socially and environmentally acceptable, and it assists a student in covering living expenses while attending Monash.
Scholarship at Monash University Summary
| | |
| --- | --- |
| Country | Australia |
| Institution(s) | Monash University |
| Level of Study |  Masters, PhD |
| Opportunity Focus Areas | Arts (School of Music only) Engineering Medicine Nursing Health Sciences Science |
| Program Period | Scholarship is available for normal duration of study |
| Deadline | October 31, 2023 (annual |
Scholarship at Monash University Summary
Scholarship Coverage
Scholarship at Monash University will provide
Annual living allowance: $36,800.
Relocation allowance: $1,500.
Research allowance per annum: $1,500.
List of scholarships in Canada
Eligibility Criteria
Required Language: English.
English Language Test requirements for General: (6.5) overall (no band less than 6.0) in IELTS, and (79 +) Reading 13, Listening 12, Speaking 18 & Writing 21 in TOEFL.
English Language Test requirements for Arts, Business, and Economics: (7) overall (no band less than 6.5) in IELTS, and (94 +) Reading 19, Listening 20, Speaking 20 & Writing 24 TOEFL.
Eligible Countries: All world countries
An International student.
A New Zealand citizen.
An Australian citizen.
Australian permanent resident.
Australian humanitarian visa holder.

Check the qualifications for admission to research master's according to the field of study: from here.
Have qualifications which in the opinion of GRC are deemed equivalent.
Scholarships are awarded based on an applicant's academic record, research output, and prior research experience.
Have not previously held an Australian Government or Monash-funded Postgraduate Research Award for more than six months.
Have submitted a scholarship application in the current year.
Be undertaking research that is both environmentally responsible and socially beneficial.
Apply for a Scholarship at Monash University
To apply for a Sir James McNeill Postgraduate Research Scholarship, please follow these instructions:
Before submitting an application, you must be invited to do so. You must submit an expression of interest and/or find a supervisor willing to oversee your research in order to be granted one. The faculty or institution determines this.
Register by clicking "Apply Now" for Graduate Research Admission and Scholarship.
Here are explanations for each section of the online application.
On the application form, indicate that you want to be considered for a scholarship. There is no requirement to complete a different application form.
Since you are automatically considered for all graduate research scholarships (where applicable), you do not need to mention which scholarship you are applying for.
Required Documents
official academic records, a degree certificate, or a testamur from the institution that awarded the degree (together with a description of the grading scheme).
A citizenship document.
evidence that you meet the requirements for English language proficiency.
Request to Apply.
proposal for a study.
Please email Mr. Timothy Stranks (Museums Victoria) at attstranks@museum.vic.gov.au if there is no prior connection with a Museums Victoria curator.
Free online courses from Abdullah University
Free online courses from Columbia University
join the Facebook group to find out more "Scholarship opportunities" and "International Positions"