International students can apply for Chinese Government Scholarships offered by hundreds of Chinese colleges each year. China's universities are frequently ranked among the best in the world for higher education. Numerous graduates from these universities are steadily advancing in a variety of global industries. Additionally, the nation is home to some of the top colleges worldwide.
join the Facebook group to find out more "Scholarship opportunities" and "International Positions"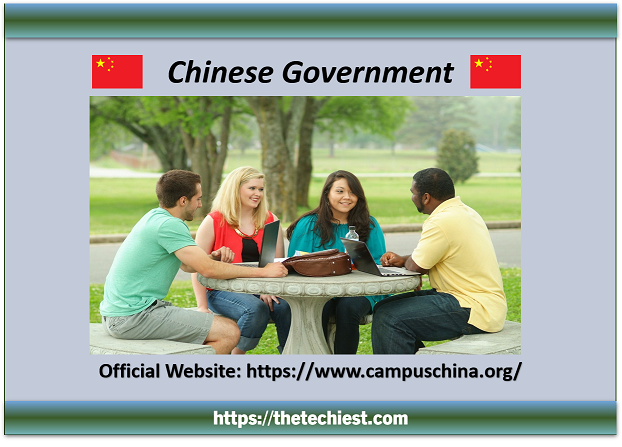 China Scholarship Council / Chinese Government Scholarships
International students are the only recipients of scholarships from the China Scholarship Council (CSC), commonly known as Chinese Government Scholarships (CGS), at its several associated colleges. The CSC scholarship application deadlines, which each university sets, are from December to April for those who are interested in applying.
Applying for CSC Scholarships online and paying close attention to the various deadlines for each university will allow students to attend one of the top colleges in the world for a remarkably affordable price!
Beijing Government Scholarships
Scholarships from the Beijing Government are available to undergraduate, graduate, and postgraduate students who are enrolled in or intend to enroll in classes in Beijing. Scholarships are available to students who are not Chinese.
The following categories are where scholarships are offered:
exceptional international students attending Beijing-based universities. The scholarship can only be awarded for a maximum of four academic years.
Senior scholars and students studying Chinese. The scholarship can only be awarded for a maximum of one academic year.
Common Learners. The scholarship can only be awarded for a maximum of one academic year.
students on exchange programs and those receiving special funding. The scholarship can only be awarded for a maximum of one academic year.
Chengdu Government / Chengdu University Multiple Scholarships for Students and Teachers
International Chinese teachers as well as domestic and foreign students wishing to enrol in undergraduate and graduate programmes at Chengdu University are eligible for the Chengdu Government/University Scholarships. A stipend (between 10,000 and 30,000 RBM) and/or a waiver of the tuition cost may be provided through the scholarships.
'
Note: Other Chengdu universities are also eligible to apply for Chengdu Government scholarships.
For further information and to apply
Join "Scholarship Opportunities" Facebook Group for More Scholarships, Fellowships, Internships, Positions, and Free Online Courses
Funded/Fully Funded Scholarships in Japan
Shanghai Government Scholarship for International Students
The Shanghai Municipal People's Government established the "Shanghai Government Scholarship for International Students" in an effort to draw exceptional potential foreign students to study in Shanghai, foster international cooperation and communication, and develop a science and technology innovation center with global influence.
For undergraduate programs, applicants must be no older than 25 years old and have completed high school. For master's programs, applicants must be no older than 35 years old and have completed a bachelor's degree. For doctoral programs, applicants must be no older than 40 years old and have completed a master's degree with potential for academic research.
International Students' Scholarships from the Shanghai Government
Chongqing Municipal Government Mayor Scholarship
The Chongqing Municipal Government sponsors international students and scholars to study and conduct research in Chongqing's higher education institutions as part of a number of scholarship programs designed to foster mutual understanding and friendship between Chinese and people from around the world. Scholarships are offered for Ph.D., Master's, and Bachelor's programs, as well as the Chinese language course.
Chongqing Mayor Scholarship, Municipal Government
Anhui Provincial Government Scholarship
All applicants to bachelor's, master's, and doctorate programs in Anhui Province universities, as well as those enrolled in Anhui Province universities already, are eligible for the Anhui Provincial Government Scholarship. The Anhui Provincial Government Scholarship is not available to recipients of any kind of Chinese scholarship program.
Scholarship from the Anhui Provincial Government
Nanjing Government Scholarship for Overseas Students
This fellowship was established in 2013 by the Nanjing Municipal Government in an effort to draw in more deserving international students to study and conduct scientific research at Nanjing universities. Interested parties may apply:
foreign nationals who are amicable with China and in good physical and mental health.
applicants for master's degrees who are under 35, applicants for doctorates who are under 40, and undergraduate students who are 28 years of age or younger.
Applicants to whom Chinese government departments or agencies have not been awarded any other scholarships.
Government Scholarship in Nanjing
More scholarships
Free online courses from Abdullah University
Malmo University Scholarships for International Students in Sweden
Tongarewa Scholarship at Victoria University of Wellington
List of Scholarships in Italy-Study free in Italy
Sabanci University Scholarships in Turkey
York University Scholarships | Fully Funded | Canada
Join "Fully Funded Scholarships" Facebook group for updates about Fully Funded Scholarships all over the World