There is some startling news for international students who want to pursue higher education abroad. Applications for the New Zealand Manaaki Scholarships 2024 are now being accepted. The New Zealand government is providing funding for the scholarship. Are New Zealand Manaaki Scholarships available for studies toward undergraduate, graduate, and doctorate degrees? International applicants are welcome to submit scholarship applications from the areas listed below.
join the Facebook group to find out more "Scholarship opportunities" and "International Positions"
If your country is listed as eligible, you should apply; if not, short-term training scholarships are available for Southeast Asia and Pacific citizens, as well as Timor-Leste and English Language Training for Officials Scholarships (NZELTO).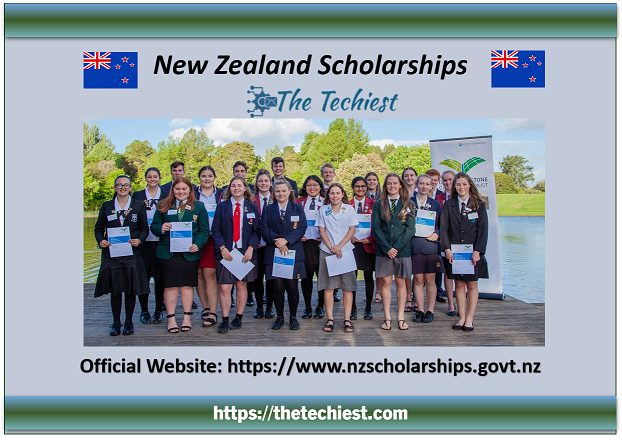 Because of COVID-19 updates, some countries (Commonwealth Countries) are not eligible to apply for the New Zealand Manaaki Scholarships.
New Zealand Manaaki Scholarships Summary
| | |
| --- | --- |
| Scholarship Country | New Zealand |
| Sponsored | Government of New Zealand |
| Degree Level | Undergraduate, Masters, PhD degree |
| Scholarship Award | Fully Funded |
| Nationality | International Students |
New Zealand Manaaki Scholarships SUMMARY
Scholarships Duration
For Undergraduate Degree: 3-4 years
For Master's Degree: 1-2 years
For Ph.D. degree: 3.5 years
Postgraduate Certificate: 6 months
Postgraduate Diploma: 1 year
Available Study fields
Food Security and Agriculture
Agricultural science
Biosecurity
Horticulture
Supply chain management
Law and Justice
Criminal justice
Criminology
Gender
Human rights
Climate Change and the Environment
Water management
Natural resource management
Forestry
Environmental science
Engineering
Civil engineering
Geology
Geophysics
Geotechnical engineering
Disaster Risk Management
'
Volcanology
Emergency management
Disaster management
Meteorology
Education
Education policy and planning
Curriculum and assessment
Research and evaluation
Quality assurance
Education leadership
Specialist teaching (Information technology, mathematics, and science)
Education for learners with special needs
Teaching English to Speakers of Other Languages
Educational leadership: Teaching education and teacher training
Mohamed Bin Zayed University Scholarships in UAE
Health
Nurse educators
Nursing
Mental health
Specialized Health Profession (e.g. Gynaecologist, Mental health, Paediatrics, Emergency medicine, Radiologist). Postgraduate degree level only
Economic Resilience and Private Sector Tourism
Aviation engineering
Air Traffic Control
Tourism management
Good Governance
Government services: Public sector administration, Public policy, procurement, Public financial management, and management.
Join "Scholarship Opportunities" Facebook Group for More Scholarships, Fellowships, Internships, Positions, and Free Online Courses
Financial Services
Cover the Full Tuition fee waivers
Monthly Stipend
Airfare tickets
Healthcare Coverage
Research and Thesis Allowance
Provides additional Allowances for Startups in New Zealand
Requirements
In order to be qualified for the New Zealand Manaaki Scholarships, candidates need to fulfill the eligibility requirements listed below.
International students may apply for scholarships provided they are from one of the following regions: Asia, the Pacific, Africa, the Caribbean, or Latin America.
Students wishing to apply for a scholarship must be at least eighteen.
If students are chosen for the scholarship, they must apply for a visa.
After graduation, students must consent to do community development service back home.
Students must fulfill the COVID-19 criteria for the New Zealand Manaaki Scholarships in order to apply for the scholarship.
Unless you request an exemption and present concrete proof of it, proof of English language proficiency is necessary.
Required Documents
ID Card
Previous Degree Certificate, Transcripts
IELTS/TOEFL (Not More than 18 months)
Other Supporting Documents
List of Eligible Countries
Only the citizens of eligible countries are able to apply for the New Zealand Manaaki Scholarships. The New Zealand government does not award academic scholarships to you if your country is not on the eligible list.
Pacific Countries
Scholarships to study in New Zealand: Kiribati, Marshall Islands, Federated States of Micronesia, Fiji (postgraduate only), Solomon Islands, Tonga, Tuvalu, Nauru, Niue, Palau, Papua New Guinea, Samoa, Vanuatu
Scholarships to study at a Pacific university: Kiribati, Solomon Islands, Tonga, Niue, Samoa, Tuvalu, Vanuatu.
Asian Countries
Myanmar, Nepal, Philippines, Thailand, Cambodia, Indonesia, Jordan, Lao PDR, Malaysia, Mongolia, Timor-Leste, Viet Nam
African Countries
Senegal, South Africa, Tanzania, Eswatini, Egypt, Ethiopia, Algeria, Angola, Botswana, Lesotho, Malawi, Mauritius, Djibouti, Ghana, Kenya, Morocco, Mozambique, Namibia, Nigeria, Rwanda, Tunisia, Uganda, Zambia, Zimbabwe
Caribbean Countries
Grenada, Guyana, Belize, St Lucia, St Vincent, Dominica, Dominican Republic, Haiti, Jamaica, and the Grenadines, Suriname.
Latin American Countries
Argentina, Bolivia, Brazil, Cuba, Ecuador, El Salvador, Guatemala, Honduras, Colombia, Costa Rica, Mexico, Nicaragua, Panama, Paraguay, Peru, Venezuela
Commonwealth Countries
We regret to inform you that no tertiary scholarships are available for the Commonwealth for the selection of the 2023 round as a result of COVID-19.
Deadline
The Selections round for Tertiary Scholarships 2023 is now closed.
The application portal for the "Samoa Foundations" Scholarship 2023 will be open in August 2023 for study in 2024.
How to Apply
The application process is online for the New Zealand Manaaki Scholarships 2024. Depending on the nation or region you are from, the application process for scholarships varies. To apply for the scholarship, must visit the respective application portal of your region on the official website
More scholarships?
List of Scholarships in Italy-Study free in Italy
List of Scholarships in Australia
University of Oregon Scholarship in USA
List of Fully Funded scholarships in Canada
University Scholarships for International Students in Sweden
List of scholarships in New Zealand without IELTS
Funded/Fully Funded Scholarships in Japan
York University Scholarships | Fully Funded | Canada
Fully Funded SBW Berlin Scholarship in Germany – No Application Fee
Join "Fully Funded Scholarships" Facebook group for updates about Fully Funded Scholarships all over the World