There is good news for international students looking for a scholarship in Finland. Applications for the Finland Government Scholarships are now being accepted. Universities in Finland provide a variety of scholarships for undergraduate, graduate, and doctorate programs. The Ministry of Education and Culture provides funding for the Finland Government Scholarships.
Join "Scholarship Opportunities" Facebook Group for More Scholarships, Fellowships, Internships, Positions, and Free Online Courses
International students worldwide have access to scholarships at all universities and colleges of applied sciences. Any non-EU/EEA students are welcome to apply. Finland is one of Europe's fastest-growing international hubs, home to some of the best universities in the world and offering graduates a wide choice of creative and intriguing career options.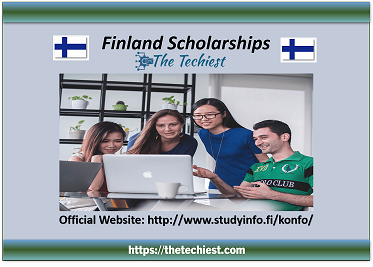 Finland's top-ranked higher education system provides 500 English-taught study programs in 13 universities for bachelor's and master's degrees and 22 universities of applied science (UAS). Additionally, PhD programs taught in English are available. Finland's higher education institutions are home to more than 20,000 overseas students.
Finland Government Scholarships Summary
| | |
| --- | --- |
| Host Country | Finland |
| Institute | Universities and universities of applied sciences (UAS) |
| Degree Level | Bachelor, Master & PhD degree |
| Financial Coverage | Funded |
Finland Government Scholarships Summary
The Scholarship call is open for the January 2024 intake.
'
Available study programs
Arts
Law
Education
Agriculture
Health and welfare
Humanities
Medicine
Natural sciences
Mathematics, Statistics
Business, Administration
Forestry, fisheries, and veterinary
Services (Military Science, sport science)
Engineering, manufacturing, and construction
Social sciences, journalism, and information
Information and Communication Technologies (ICTS)
List of Scholarships in Australia
List of Participating Universities
Two types of higher education institutions: universities and universities of applied sciences (UAS) offer scholarships.
There are 13 universities and 22 universities of applied sciences in Finland.
Aalto University
University of Helsinki
University of Eastern Finland
University of Jyväskylä
University of Lapland
LUT University
University of Oulu
Hanken School of Economics
University of the Arts Helsinki
Tampere University
University of Turku
University of Vaasa
Åbo Akademi University
Financial Benefits
The following paragraphs outline the financial advantages of the Finland Government Scholarships.
The scholarship will pay for the first year's tuition and a minimum 5,000 euro relocation grant.
The universities in Finland offer scholarships that waive all or a portion of the tuition fees, as well as awards that include both.
There are never any fees associated with the application process.
Important Reminder
There is no need to submit a separate application for the Government of Finland Scholarship. Your application for a scholarship will be automatically considered.
Application Deadline
The application deadline for the Finland Government Scholarships is Ongoing. Applicants should check the deadline on the official website before applying for the scholarship.
Qatar Government Scholarships | Study in Qatar without IELTS
How to Apply
The process of application is online for the Government of Finland Scholarships for the academic year of 2023-2024.
To find the right option, visit the national application portal database at Studyinfo.fi.
Check the admission requirements.
After that, apply for the selected program and scholarship.
After application wait for their response.
Contact the admissions office of the university you are applying to if you need assistance with your application. On Studyinfo.fi or the individual admissions information pages of the universities, you can discover their contact information.
More scholarships
Free online courses from Australian National University
University Scholarships for International Students in Sweden
join the Facebook group to find out more "Scholarship opportunities" and "International Positions"