For those students hoping for a Master's degree scholarship, there is some unexpected news. The Danish Roskilde University Scholarships in Denmark is now accepting applications. This scholarship programme is only for master's programmes. Scholarship applications are accepted from international students from all over the world including European nations.
Join "Scholarship Opportunities" Facebook Group for More Scholarships, Fellowships, Internships, Positions, and Free Online Courses
A small number of scholarships and waivers of tuition fees from the Danish government are available at Roskilde University to deserving candidates in certain master's programmes. Students who are applying for September admission are granted scholarships, some of which cover tuition expenses. The scholarship will be awarded to the applicant for the whole 22-month length of the degree.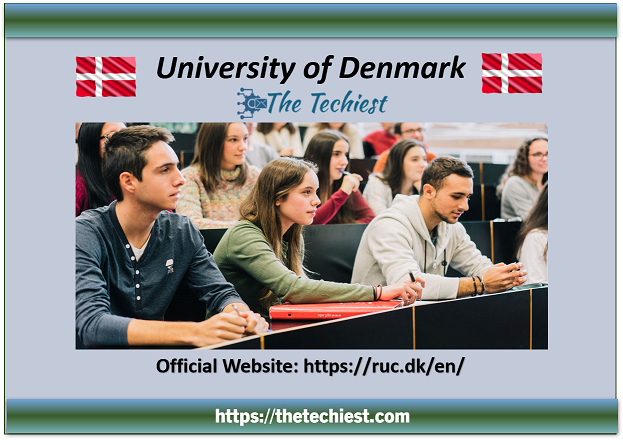 Since it's not simple to obtain tuition fee exemptions and scholarships, applicants must first fulfil all conditions. Students will be chosen based on their prior academic standing, prior employment history, and motivational letters. You must read the entire post below to learn more information about the scholarship
Roskilde University Scholarships in Denmark Summary
| | |
| --- | --- |
| Scholarship Country | Denmark |
| Host Institution | Roskilde University |
| Degree Level | Masters |
| Eligibility | International students |
| Deadline | 15 Jan 2024 (annual) |
Roskilde University Scholarships in Denmark Summary
List of Available Study Fields
The following is a list of master's degree programmes Roskilde University Scholarships in Denmark will be offering for the 2024 academic year;
'
Computer science master's
Environmental science master's degree
Media and Communication Master's
Nordic Urban Planning Studies Master's
Global and Development Studies Master's
Master of Governance and International Politics
Financial Advantages
Roskilde University Scholarships in Denmark
Recipients will receive a 22-month waiver of their tuition costs.
The beneficiaries will get a stipend of up to DKK 7,800 per month to help with living expenses while they are in Denmark.
The scholarship and tuition fee waiver recipients should remember that they must stick to the study schedule to maintain their benefits.
Eligibility Criteria
To qualify for a Roskilde University Scholarships in Denmark and financial aid, you must meet the following criteria:
Only Masters degree candidates in the aforementioned programmes may submit an application.
You must adhere to the admission standards for the educational programme you want to apply to.
The candidate must be a non-EU/EEA national, pay tuition, and enrol in one of the master's programmes at Roskilde University that offers scholarships.
Please be aware that the University of Roskilde only has a limited amount of scholarship and tuition fee waiver options available, so even if you are eligible to apply, there is no assurance that you will be awarded any particular scholarship.
Qatar Government Scholarships | Study in Qatar without IELTS
Important Note
Keep in mind that just because you are eligible to apply does not guarantee that you will get one of the available tuition fee waivers or scholarship awards. When ranking applicants, factors such their academic standing, motivational letter, and career background are taken into account. No thought is given to social or familial background.
The university selects the specific master's programme that could offer one or more scholarships and tuition exemptions before each round of enrollment.
Application Deadline
The last date to apply for the Scholarships at Roskilde University for the academic year of 2024 is 15 Jan 2024 (annual). 
How to Apply
The process of application is online for the Roskilde University Scholarship program in Denmark. You may apply by uploading your letter of motivation and resume or CV describing your occupational background and academic in your online application form to secure admission to the master's programs within the application deadlines.
To know more and apply for Master's Degree programs at Roskilde University must visit the official website given below.
The HAAA Scholarship | Harvard University USA
Free online courses from Abdullah University 
join the Facebook group to find out more "Scholarship opportunities" and "International Positions"