People from developing nations, particularly those in the Indo-Pacific region, can pursue full-time undergraduate or postgraduate study at participating Australian universities and Technical and Further Education (TAFE) institutions thanks to Australia Awards Scholarship Australia Awards, formerly known as Australian Development Scholarships (ADS).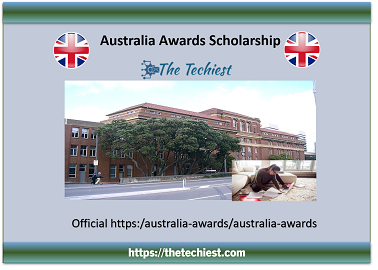 programs at the undergraduate or graduate levels that are relevant to the development priorities mentioned for your country on the profiles of the participating countries. Training in fields connected to flying aircraft, nuclear technologies, or military training is not eligible for Australia Awards Scholarships.
Join USA and Canada Scholarships & Fellowships Facebook Group for more updates
Duration Australia Awards Scholarship
Full tuition fees, round-trip airfare, an establishment allowance, a contribution towards living expenses (CLE), Overseas Student Health Coverage (OSHC), an introductory academic program (IAP), pre-course English (PCE) fees, among other privileges, are typically included in the benefits of scholarships. Visit the official website to view the full list of advantages.
Australia Awards Scholarships are provided for the least amount of time required for the recipient to finish the academic program, including any relevant prerequisite training, as stipulated by the Australian higher education institution.
'
Eligibility:
To qualify for an Australia Awards, applicants must:
be at least 18 years old on February 1 of the scholarship year
be a citizen of one of the participating nations (listed on the Australia Awards website)
be residing in that nation and applying for the scholarship from there; not be an Australian citizen; not hold permanent residency in Australia; not be applying for a visa to live permanently in Australia;
not be married to, engaged to, or a de facto of a person who holds, or is eligible to hold, Australian or New Zealand citizenship or permanent residency, at any time during the application, selection, or mobilization phases (note: residents of Cook Islands, Niue and Tokelau with New Zealand citizenship are eligible but must apply for a Student visa [subclass 500]);
not have previously received a long-term Australia Awards Scholarship unless they have lived abroad for twice as long as they were in Australia (for instance, a previous awardee who has been on an Australia Awards Scholarship in Australia for four years will not be eligible to apply for another Australia Awards Scholarship until they have lived abroad for eight years)
not be active-duty military personnel; not currently serving in the military.
not have convictions for crimes related to child protection or PSEAH (including those from their nation);
join the Facebook group to find out more "Scholarship opportunities" and "International Positions"
In order to be eligible for a long-term Australia Awards Scholarship, recipients of the Pacific Secondary School
scholarship Programme (PSSSP) must have satisfied any requirements set forth by the Programme Area or the government of the applicant's country of citizenship (such as having worked for a specific number of years in an appropriate field).
be able to meet the entrance standards of the institution where the grant is to be used. If the recipient cannot meet these requirements,
Programme Areas may need to withdraw their offer of an award. To hold a student visa, applicants must be able to meet all conditions set forth by the Department of Home Affairs. This may not be known until Programme Areas request a placement at particular institutions. If the recipient cannot obtain a visa, the Programme Area may need to withdraw an Australia Awards Scholarship offered.
The recipient should also refrain from applying for a scholarship for a course of study at a level below their current one (for example, applying for a Master's scholarship when they already hold a Ph.D.)
applicants must inform the Program Area of any connection or relationship to staff employed at Program Areas (including locally engaged staff at post) or with managing contractors so that the
application may be properly and transparently managed.
Read the complete eligibility criteria in the Australia Awards Policy Handbook (PDF)
Others scholarship
Fully Funded SBW Berlin Scholarship in Germany – No Application Fee
Application instructions
For more information on eligibility, priority areas, and application procedures, check the open and close dates for your nation and choose the participating nation that you are a citizen or permanent resident of from the list. If an applicant cannot submit an application online, they may do so by mail. The cutoff time is May 1 at 11:59 p.m. AEST.
For complete and up-to-date instructions on how to apply for this Australia Awards Scholarship, it is crucial to read the how to apply page, visit the pages dedicated to particular nations, and go to the official website (link provided below).
Others scholarship
DAAD Scholarships in Germany for Development-Related Postgraduate Courses