Applications are currently being accepted for the German Friedrich Ebert Foundation Scholarship. For the Friedrich Ebert Stiftung Scholarships, all international students and citizens of other countries are entitled to apply.
Friedrich Ebert Foundation Scholarship
In Germany, the Friedrich Ebert Foundation Scholarship offers scholarships for bachelor's, master's, and doctoral degrees. Every academic discipline's students are welcome to apply to study in Germany. For the academic year 2023–2024, there are fully financed scholarships available to study in Germany for nothing.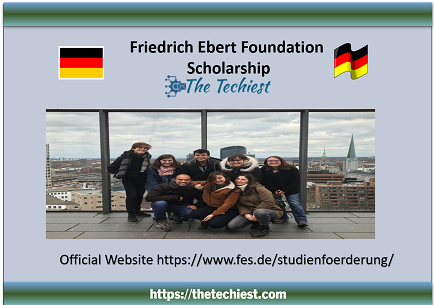 Friedrich Ebert Foundation Scholarship Summary
| | |
| --- | --- |
| Host Country | Germany |
| Eligible Nationality | All |
| Study Level | Bachelor, Master, PhD |
| Eligible Fields | Any Subject Area |
| No. of Scholarships | 40 |
| Deadline | 31 May 2023 and 30 November 2023 |
Friedrich Ebert Foundation Scholarship in Germany
Join USA and Canada Scholarships & Fellowships Facebook Group for more updates
Benefits
The following expenditures will be covered by the Friedrich International Student Scholarships for pursuing bachelor's degrees in Germany and postgraduate degrees in Germany:
Monthly allowance of EUR 750 in a program leading to a bachelor's, diploma, master's, or state examination.
For Master's students, an 850 EUR monthly stipend is offered.
The cost of health insurance is paid, and students who have kids get a family stipend of EUR 276.
There is no need to repay the scholarship.
For more scholarships
York University Scholarships | Fully Funded | Canada
'
Fully Funded Research Scholarships (UK) for Ph.D. Students at Swansea University
Criteria Eligibility
For Bachelor and Graduate Degrees:
Confirmation of the student's study location or a certificate of attendance in the course they want to be sponsored at a state- or state-recognized German university or technical college
International applicants must additionally show that they are proficient in German.
German and educated foreign first-year students must apply before or at the beginning of the first semester.
To obtain a Ph.D.:
Acceptance without conditions into the doctorate scholarship
International applicants must additionally show that they are proficient in German.
Join "Fully Funded Scholarships in Euorope" Facebook group to explore latest scholarship opportunities
Academic Requirements
Outstanding academic or school achievement (where required: first graded proofs of academic achievement)
Engagement in politics and society, as well as dedication to social democratic principles
Responsible, driven, trustworthy individuals eager to participate in the network of the Foundation
adequate German language skills, even if the courses are taught in English
Application Deadline
During the Winter semester and the Summer semester, respectively, the deadlines for Friedrich Ebert Foundation Scholarship applications are 30 November and 31 May. Anytime is a good moment to apply for a Ph.D.
How to Apply?
Application for the FES scholarship is done online. On the FES website, you must register. Just complete the online application. A few questions about your professional and family history will be asked of you; no more paperwork is currently needed.
Online submissions are accepted for the FES scholarship. On the FES website, registration is required. Please complete the online form. Further documents are not yet necessary; nevertheless, you will be asked a few questions about your career and family history.
Join the Facebook Group for more Scholarship, Fellowship, Internship, and career updates