Researchers interested in Austrian history might apply for the Richard Plaschka Fellowship program. The scholarship is available for four to twelve months, with a maximum extension of 18 months.
| | |
| --- | --- |
| Eligible Nationalities | International (All except Austria) |
| Area of study or research | Humanities, History, Archaeology |
| Target group | Ph.D. students, Ph.D. holders, post-doc Researchers |
| Duration | 4 to 18 months |
| Closing date | 15.09.2023 |
Richard Plaschka Fellowship Summary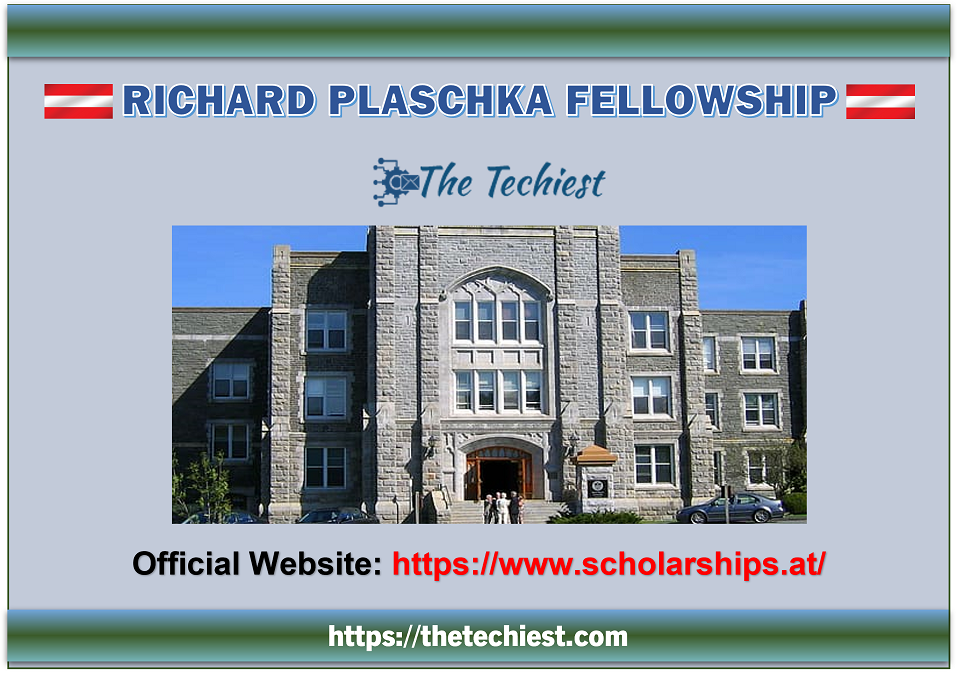 Join the Facebook Group for more Scholarship, Fellowship, Internship, and career updates
Benefits of the Richard Plaschka Fellowship
The Richard Plaschka Fellowship has the following advantages:
Grant rates each month are Scholarship: 1,250 Euros
Monthly mobility allowance: 600 euros (for research stays of 3 months or longer)
assistance with making arrangements for housing and health insurance
Holders of OeAD scholarships can reserve housing (a dorm or an apartment) through the OeAD student housing. The following are the monthly expenses:
rent ranges from about 250 to 600 euros per month (depending on the amenities)
Administrative costs at the moment: EUR 21
Holders of OeAD scholarships are required to obtain health insurance for the duration of their stay in Austria that is recognized by Austrian authorities. The OeAD can help with securing
Such protection. Although the monthly expenses may change, you should now allocate between 55 and 200 euros. (Depending on your age, the type of scholarship you receive, and your health).
Scholarship recipients are responsible for covering their own housing and insurance fees.
Candidates from EU/EEA nations: The national insurance company in your native country within the European Union pays for medical expenses. Please always carry your card for European health insurance.
Applicants from non-EU/EEA nations who intend to stay for more than six months to research: While applying for a residence permit in Austria, the Austrian residence authority may ask for proof of supplementary finances if your monthly lodging expenses surpass EUR 300. This amount may vary depending on your health insurance plan and other liabilities.
Austria exempts grant beneficiaries from paying tuition. They may need to submit a request to the rector's office of their respective host institution to have these waived, along with proof that they are participating in transnational EU, national, or university mobility programs to study or conduct research.
Holders of non-European developing country scholarships will now get up to EUR 1,000 travel expense grant.
Follow-on Support
Following a favorable assessment of the candidate's first 12 months at an Austrian institution, the initial grant may last up to 12 months. More assistance could be needed if the applicant is a PostDoc lecturer at a foreign university. In agreement with the Austrian academic supervisor, the Richard Plaschka Scholarship Committee determines whether fellows will be admitted to the continuation program. Richard Plaschka Fellowship for Ph.D. Students and Postdocs in Austria
'
Join European Union Fully Funded Scholarships Facebook group to explore latest scholarship opportunities
Documents Required
The following files must be uploaded with the online Richard Plaschka Fellowship application.
Two letters of recommendation from university instructors qualified to hold the position of professor (Habilitation or equal qualification). The Austrian supervisor shall not issue a recommendation letter beside the consent (see below). These letters of inquiry have no established format.
Recommendation, but they must also bear the university/stamp, the department's recommender's letterhead, the date, and their signature. When applying, they cannot be more than six months old.
a habilitated lecturer's permission to academically supervise the application at the Austrian target institution;
Scan of your name and photo page from your passport; Scan of your diploma, master's, and/or doctoral degree from your university; Scan of a related scientific synopsis and bibliography to the study undertaking. Proof of employment at a university; proof of a teaching assignment.
Eligibility
Highly accomplished historians with expertise in Austrian history PostDocs and PraeDocs from nations where the Habilitation system (state doctorate/postdoctoral lecture qualification) is unaccustomed.
The Richard Plaschka-Fellowship applicants' teaching activities and publications will be taken into account while establishing their eligibility.
Six months before applying for the scholarship, applicants could not have studied, conducted research, or worked in an academic capacity in Austria.
Candidates who have lived in Austria permanently or who have spent the majority of their academic careers studying there are not eligible to apply.
Applicants must contact their preferred research institution in Austria before submitting their grant application.
The university's admissions guidelines must be followed by applicants.
Richard Plaschka Fellowship for Ph.D. Students and Postdocs in Austria
Join USA and Canada Scholarships & Fellowships Facebook Group for more updates
Richard Plaschka Fellowship Timeline
The closing date for applications is September 15th, 2023.
How to Apply for Richard Plaschka Fellowship Program
You must apply for the Richard Plaschka Fellowship.
Register at https://www.scholarships.at/, then log in.
the Richard Plaschka Fellowship database
Activate the online form.
the necessary paperwork online
Join European Union Fully Funded Scholarships Facebook group to explore latest scholarship opportunities
Click here for more details