Many master's degrees at Swedish universities will be eligible for scholarships in the autumn of 2024 thanks to the Swedish Institute Scholarships for Global Professionals (SISGP), a new scholarship scheme that will replace the Swedish Institute Study Scholarships (SISS).
Join "Fully Funded Scholarships" Facebook group for updates about Fully Funded Scholarships all over the World
The SI Scholarship for Global Professionals seeks to cultivate future global leaders who will support both positive and sustainable development in their nations and regions as well as the United Nations 2030 Agenda for Sustainable Development.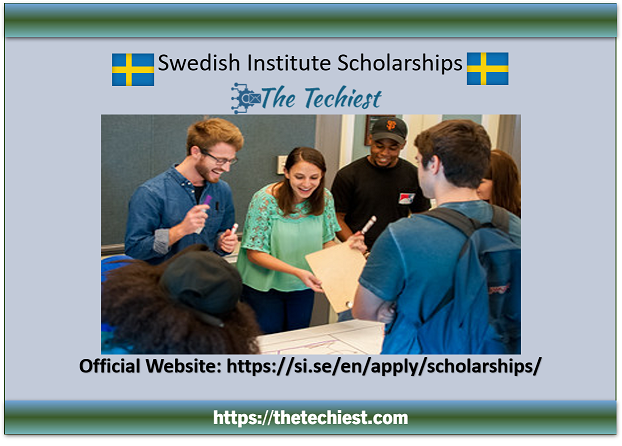 Swedish Institute Scholarships for Global Professionals Summary
| | |
| --- | --- |
| Host country | Sweden |
| Host Universities | Swedish Higher Education Institutions and Swedish Universities |
| Number of Scholarships | About 350 scholarships |
| Deadline | The application portal will open on 12 February – 28 February 2024 at the official website. |
Swedish Institute Scholarships for Global Professionals
Level/Field(s) of study
Masters programmes offered by Swedish universities and higher education institutions that are full-time and last one or two years.
The SI grant for Global Professionals is available to students enrolled in about 700 master's programmes taught in English. These programmes include those in the humanities, agricultural science, natural science, social science, medicine and public health, and technology. The list of master's programmes that qualify for the SISGP call for applications for the upcoming academic year will soon be available on the official website.
Target group
Students hailing from the subsequent nations Swedish Institute Scholarships for Global Professionals
Azerbaijan, Bangladesh, Bolivia, Brazil, Cameroon, Ecuador, Egypt, Ethiopia, Gambia, Georgia, Ghana, Guatemala, Honduras, Indonesia, Jordan, Kenya, Liberia, Malawi, Moldova, Morocco, Myanmar (Burma), Nepal, Nigeria, Pakistan, Peru, Philippines, Rwanda, South Africa, Sri Lanka, Sudan, Tanzania, Tunisia, Uganda, Ukraine, Vietnam, Zambia, and Zimbabwe.
Scholarship value/duration
The scholarship covers full tuition fees, living expenses of SEK 12,000 per month, insurance, and a SEK 10,000–15,000 one-time travel award (available only to recipients who do not reside in Sweden).
'
The scholarship is exclusively given for full-time master's degrees that begin in the autumn semester and is meant for one- or two-year programmes.
Family members are not eligible for any further grants. Additionally, it doesn't pay the university admissions application fee.
Criteria
Criteria Swedish Institute Scholarships for Global Professionals
Country of citizenship
You must be a citizen of a country that is eligible for SI scholarships. However, you do not need to reside in the country at the time of the application.
Master's programmes
The master's programmes you apply for must be eligible for SI scholarships. We give priority to programmes within certain subject areas, depending on your country of citizenship.
University admission
You must be liable to pay tuition fees to Swedish universities, have followed the steps of University Admissions and be admitted to one of the eligible master's programmes .
Previous experience
You must have demonstrated work experience (conditions apply to certain regions). In addition, you must have demonstrated leadership experience from your current or previous employer, or from civil society engagement.
Eligibility
To qualify for the Swedish Institute Scholarships for Global Professionals :
As stated above, you must be a citizen of a nation that qualifies for SI scholarships. You are not required to be a resident of the nation at the time of application, though.
SI scholarships must be available for the master's programs you are applying to. Programs in specific topic areas are given precedence by the institution based on your citizenship.
Work experience must be verified (differences apply to specific areas). Furthermore, you need to exhibit evidence of leadership via involvement in civic society or from your past or current employment.
To be admitted (or conditionally admitted), you must be liable for tuition payments at Swedish universities, have completed the University Admissions process, and have paid the application fee on time.
she was admitted by March 21, 2024, to one of the master's programs that qualify.
Other requirements include having two citizenships, having lived and studied in Sweden in the past, and more. Check out the official website for the complete list of eligibility requirements.
Free online courses from Abdullah University 
Application instructions
On the official website for Swedish Institute Scholarships for Global Professionals, the application portal will be available from February 12 until February 28, 2024.
Start by applying by January 15, 2024, to a master's program at universityadmissions.se. You will receive a personal application number with eight numbers after submitting your application for a master's course at universityadmissions.se. You will require the number to apply for the Swedish Institute Scholarships for Global Professionals, so please save it.
You can apply for a SI scholarship once your master's program application is complete. The necessary documents must be electronically submitted via the online application site between February 12, 2024, at 00:01 and February 28, 2024, at 14:59 CET.
It is crucial to go to the official website to get comprehensive instructions on how to apply for this scholarship.
Swedish Institute Scholarships for Global Professionals official website
join the Facebook group to find out more "Scholarship opportunities" and "International Positions"
More scholarships
List of Scholarships in Italy-Study free in Italy
Fully Funded SBW Berlin Scholarship in Germany – No Application Fee