The LExS (Leiden University Excellence Scholarship) is a scholarship program run by Leiden University in the Netherlands. The scholarship is meant to assist meritorious international students who wish to study in the master's program at Leiden.
Join "Scholarship Opportunities" Facebook Group for More Scholarships, Fellowships, Internships, Positions, and Free Online Courses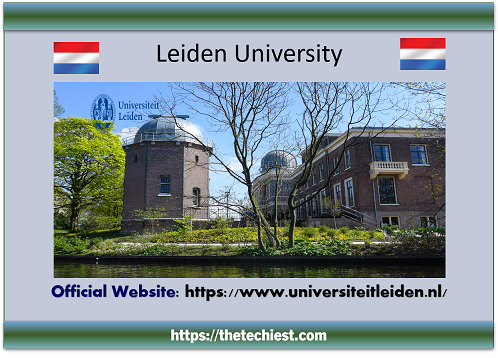 Leiden University
The public research university Leiden University is situated in Leiden, Netherlands. William, Prince of Orange founded it as a Protestant institution of higher learning in 1575. The university gained notoriety particularly during the Dutch Golden Age, when academics from all over Europe were drawn to the Dutch Republic because of its intellectually open environment and Leiden's international standing. The university is renowned for its historical roots and focus on the social sciences.
Leiden University Excellence Scholarship Summary
Host Country
Netherlands
Host Institute
Leiden University
Education Level
Master
Eligible Nationality
Non-EEA/non-EFTA students
Exception: All nationalities for Advanced LLMs and MSc International Relations and Diplomacy
Faculty
Archaeology, Humanities, Medicine/LUMC, Governance and Global Affairs, Law, Social and Behavioural Sciences, Science, African Studies Centre, International Institute for Asian Studies
Deadlines
1 Feb and 1 Oct
Summary of the Leiden University Excellence Scholarship
Leiden University Excellence Scholarship
The Leiden University Excellence Scholarship program provides scholarships in the form of tuition price waivers for the duration of the master's degree program, ranging from partial to full reimbursement of the tuition fees. The scholarship is awarded for the whole length of the master's program, which can be anywhere between one and two years, depending on the curriculum.
Eligibility Requirements
You can apply for the Leiden University Excellence Scholarship if you fulfill the following requirements:
'
Study Program Requirements
Candidates for all Leiden University Master's programs, barring:
Leiden Law School's LLM (non-advanced) and MSc programs.
The Leiden Law School, the Faculty of Humanities, and the Faculty of Sciences all begin their semesters in February.
Nationality Requirements
Applicants must not be citizens of the EEA or EFTA* in order to be eligible for Leiden University Excellence Scholarships provided by the Dutch government (Studiefinanciering), with the exception of those applying to the following programs, for whom there are no nationality restrictions:
Diplomacy and International Relations MSc every LLM Advanced Studies programme
Academic Requirements
Students' previous study program(s), which must be applied to the Master's degree for which they are applying, must have produced exceptional academic performance.
Scholarship Amount
The LExS is granted for the length of the study program. Awards are available in three tiers:
The cost of tuition is €10,000.
The cost of tuition is €15,000.
Less the compulsory tuition charge than the total tuition
The LExS does not provide complete financial assistance. In order to be granted a student visa or a residence permit, non-EEA LExS recipients must still submit "evidence of sufficient money."
Application Process
Leiden University Excellence Scholarship
Apply online for admission to a master's program at Leiden University and, if necessary, pay the application fee.
Please be aware that the time required to create and submit an application for admission may take up to two days, so begin working on it well before the LExS deadline.
After submitting your admissions application online, go back to the Apply screen and choose Scholarships. If you are eligible to apply, you will now be able to see the LExS under the scholarship category.
Please be aware that if the LExS for scholarships does not appear in your area, either your application for admission has not yet been submitted, or you are not qualified for the LExS.
Once you've indicated that you want to apply for
the LExS, please upload your letter of motivation. Your PDF file must contain your rationale for wanting to be considered for the award, with a word limit cap of 500.
Before the LExS deadline, applications for scholarships must be filed. Please be aware that after submitting your scholarship application online or by emailing extra materials, you cannot make changes to it.
You must submit an LExS application and motivation letter as part of each individual online application for admission if you wish to apply for an LExS for each study course or specialty for which you are applying and if you are also applying for more than one.
join the Facebook group to find out more "Scholarship opportunities" and "International Positions"
MORE POSTS
Government of Ireland Scholarships
Fully Funded Singapore Government Scholarships
The HAAA Scholarship | Harvard University USA